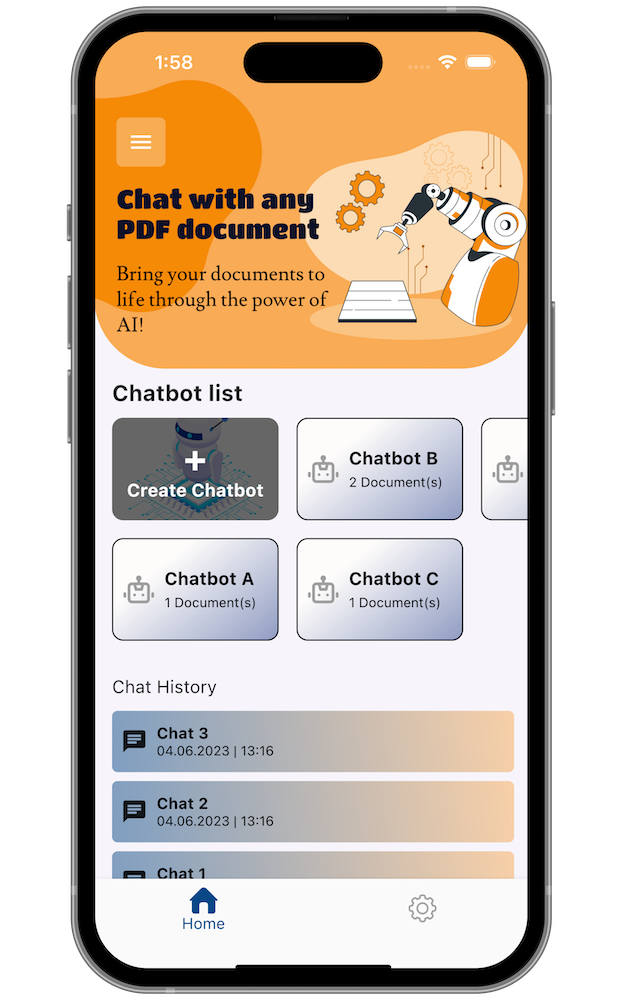 Complexity Simplified
Your Personal Document Assistant
Use AI to transform every document into a responsive, intelligent dialogue
Get concise summaries of large documents, revealing the essential insights
Information you need, backed by the reliability of your original documents with relevant references and citations
Analyze similarities, highlight differences, and find unique insights
How it works
Create/Train a custom chatbot to answer questions on your PDF documents, in a couple of simple steps
Select PDF files
Choose the list of documents you wish to query
Name the Chatbot
Assign a name to the custom Chatbot
Start Chatting
Ask the chatbot questions related to your docs
Supercharge your productivity with Premium
Unlock the full power of PDFChatUp and supercharge your productivity by upgrading to a premium subscription
No Ads
Create upto 2 custom Chatbots
Up to 2 documents per Chatbot
Up to 200 pages per Chatbot
Free
No Ads
Create unlimited custom Chatbots
Unlimited pages per Chatbot
Additional file types including; docx, pptx, epub, md, txt, odt, and rtf
Support continued development of app
Upgrade to PRO
Note! Prices may vary from location to location due to local taxation laws and conversion rates from U.S. Dollars.
Frequently Asked Questions
Answers to common questions about our service
Is my data safe/secure?
Your files are encrypted during transit and stored on a fully managed and secure infrastructure. Our storage vendor is SOC2 Type 2 certifed, (a certification based on the COSO framework and has been audited by an external Big4 CPA firm). Click here to learn more
I have noticed a bug or error in the app. Where do I send feedback?
Please fill out our contact form or send an email to [email protected], including as much detail as you can. We truly appreciate these so thanks in advance! 🙂
Is PDF ChatUp free to use?
Yes. PDF ChatUp is free to use with limitations. Please consider upgrading to a premium subscription to take full advantage of everything it has to offer, and to support continued development.
I like PDF ChatUp, How can I help?
That's fantastic! You can help by simply sharing the app with friends and family, reporting bugs/inaccuracies you encounter within the app, sending suggestions for improvements, or becoming an affiliate marketer. (Please get in touch to discuss).